Acoustic Kits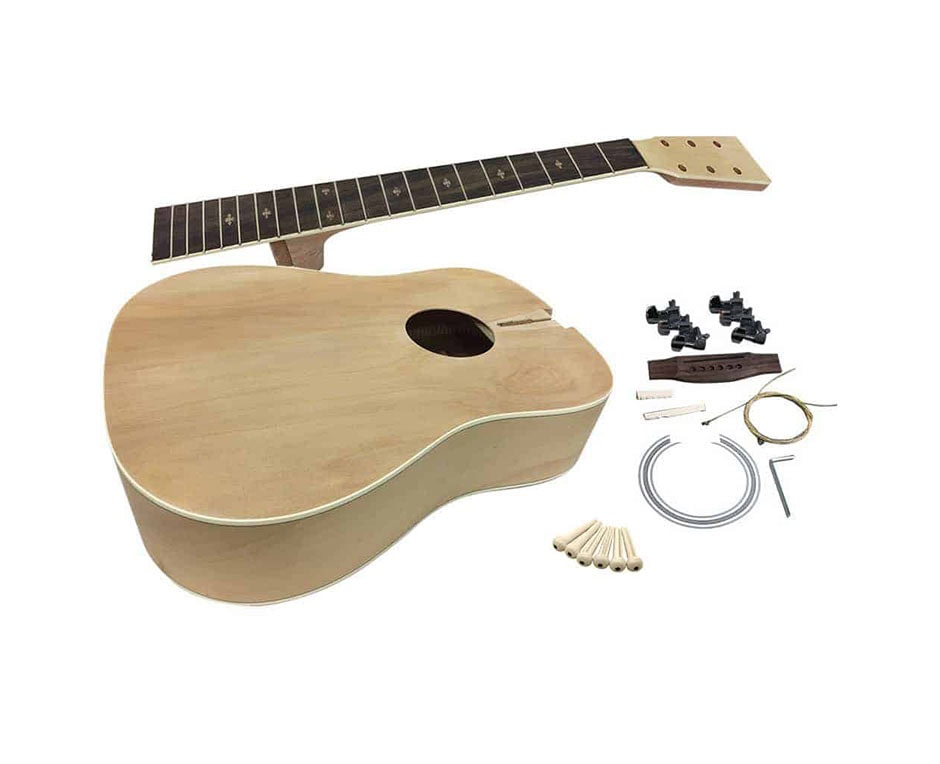 You know, when it comes to guitar kit building, you the customer are receiving the end result of a lot of research and planning….how far do we take the kit, what materials do we use, what designs do we use, do we drill all the holes? Some of the holes? No holes? It's not a process that was completed on a whim. Hours and hours of time go into the planning of materials, design, and part completion as far as to what extent can the parts be machined and still be considered a DIY kit? We feel we have done pretty well with this process as far as the electric guitars and basses we offer, and we are not finished yet! There will be more kits in the future that allow you to do more customizing, add more of your own flare or artistic touches and do more as far as machining to get the satisfaction of building almost from scratch!
Our next step here at Solo Guitars, is to offer the acoustic kit (cue the trumpet fanfare….) Yup, you heard right….acoustic kits!  They're coming very soon.  So why acoustic kits?  Why haven't we done this earlier?  What will they look like?  How will they sound?
So the looks are a secret for now….outside of the obvious which is when complete, they will look like acoustic instruments that you would find in a store. How will they sound? Well, oddly enough, they will sound like acoustic instruments as well, which seems overly obvious, but then so does the question. Will they sound like a custom hand-built $6000 Acme acoustic guitar (rather than use a real company name)? Probably not, but if assembled and finished properly, they will sound like a decent store bought entry level acoustic guitar or even maybe even better. Some of that perception will come from you the builder. Once complete, your acoustic kit will always bring you the satisfaction of having built this musical instrument yourself….just like the electrics.
So why haven't we done this earlier? Well, that is a good question. Have acoustic kits been available on the market in the past? Yup, sure have, but to my knowledge, the kits that have been available have been unassembled and even included un-machined parts that required a LOT of skill and a LOT of specialized tools to complete….essentially a collection of all the parts of a guitar in a box which you would have to build as if from scratch. Our kits have most of the work done for you so there is only the finishing, the assembly and some basic work to be done on them…..also, there are very few tools that you will require to put these kits together. We are very excited to offer 4 different kits in this new series of Solo DIY acoustic instruments, and they are scheduled to land in our warehouse very soon…..
Finally, why acoustic kits? Well our goal at Solo Guitars is to offer kits for as many instruments as we can for the DIY marketplace, and as we develop these kits they will be offered to you. Yes, we will be offering more difficult build as far as acoustics as well…have you seen our luthier tool section yet? Check out www.sologuitars.com for tools, parts and accessories and you will start to see where we are going in the future. Keep your eyes on the site for the big announcement as well….Solo Guitars Acoustic Kits!!!!