Guitar Of The Month – November, 2019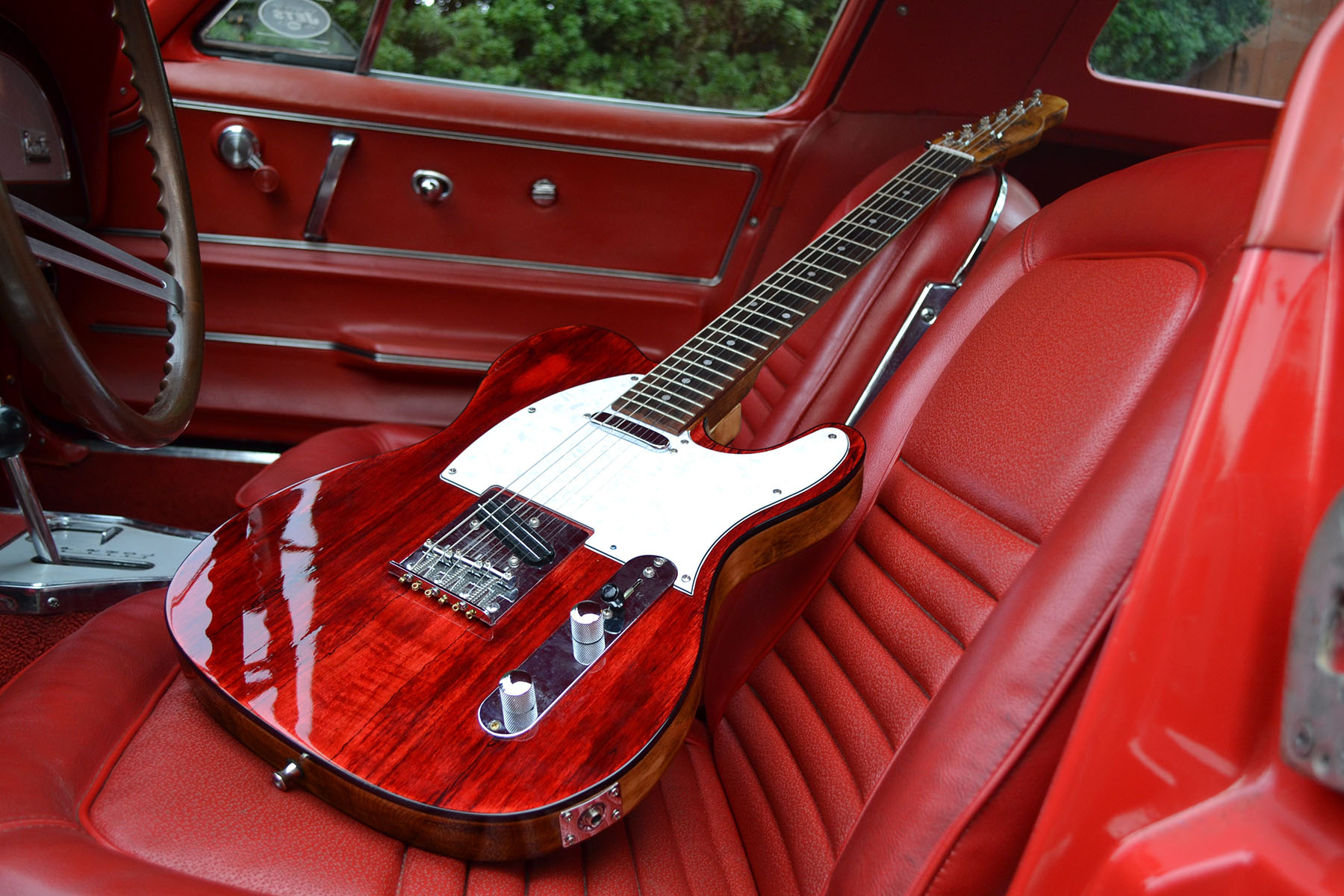 Congratulations goes out to Aidan Signorelli for his guitar build, to earn him Guitar of the Month for November 2019.
Aidan used our TCK-1SM DIY kit as the basis to create his guitar.
"Playing guitar has always been a very personal experience for me since the very beginning, about 12 years ago.  I wanted to expand on this personal experience of playing guitar by crafting a guitar of my own.  It's an amazing experience when you take a piece of wood and turn it into a reflection of yourself and working your own ideas into its grain.  Having a guitar that I can create to my own personal specs and to know what's going on with every detail of its workings for me, means everything.  Music is sound and actually being a part of how that sound is created, is truly an amazing practice.
I built this Telecaster during a really rough time in my life and it was a comforting escape to sit and work on it.  Ever since I built the guitar it has been one of the main staples in my guitar playing and its gone everywhere with me.
I purchased the TCK-1SM kit from Solo Guitars as I fell in love with the Spalted maple look, I just wasn't sure what colors I should make it.  I really wanted to put a lot of emphasis on the grains so I went with a stain.  I chose the crimson red stain because of my Grandfathers '67 Corvette.  I did a dark maple brown stain on the back to give it a vintage look and I felt it really complimented the red.  I stained the neck but I didn't clear coat it because I prefer the way it feels when the oils from my hands condition it due to a lot of playing: conditioning the neck over time in my opinion really has a nice feel.  The stains I used were "Bright Red" and "Dark Vintage Maple". I mixed them with a little bit of rubbing alcohol for the first couple coats of bright red but then later just used distilled water for the rest and I only used minimal distilled water with the Dark Vintage Maple on the back. I did about 6 to 7 coats of Bright Red Stain. The back was only 3 coats mixed with little distilled water.
I wanted the guitar to be very versatile for all kinds of playing. I wanted to give it a very punchy twang but also be able to bring out a very soft, airy tone when necessary.  To achieve these qualities, I put a classic standard Tele pickup in the neck position and put a Hot-Rails in the bridge position.  I found that these pickups help the guitar resonate really nicely with the maple body.  It really has an amazing tone even unplugged; this wood resonates very nicely. This was one of the reasons I purchased from Solo Guitars, the wood is nice quality and I've never been disappointed with any of their products.
Another one of my favorite features of this guitar is the beautiful pearl pickguard (part of the Solo Guitar kit) that really pops on the guitar.  I love the way it looks with the chrome hardware and the crimson red stain.
For the electronics I used all standard Fender tone and volume pots, and a standard 3-way telecaster switch.  I also used a set of classic Knurled knobs like on any Tele.  I used a set of machine heads from Solo Guitars and a classic Tele bridge from Solo as well.  Another small detail, I wood burned my last name into the bottom left of the back of the tele and my brand name afs13 on the headstock.  I named the guitar the Vintage T.49 because I chose the colors based of my grandfather's Corvette and that was the year he was born.
Since my dad works in the auto body industry, we had a definite advantage to clearing the guitar.  It's 5 layers of sprayed clear.  The first coat rested for 48 hours and then it was 4 more coats with 24 hours between each.  Each coat then got a buff with a 1500 grit wet sand.
Once I assembled the guitar, I put on a set of Ernie Ball 10-gauge Slinky's and did a full truss rod and intonation setup – it sounded great.  This Telecaster is one of the best guitars I own.  I'm very proud of it and it has become an indispensable part of myself, my playing and my sound!"
-Aidan Signorelli