Guitar Of The Month – December, 2019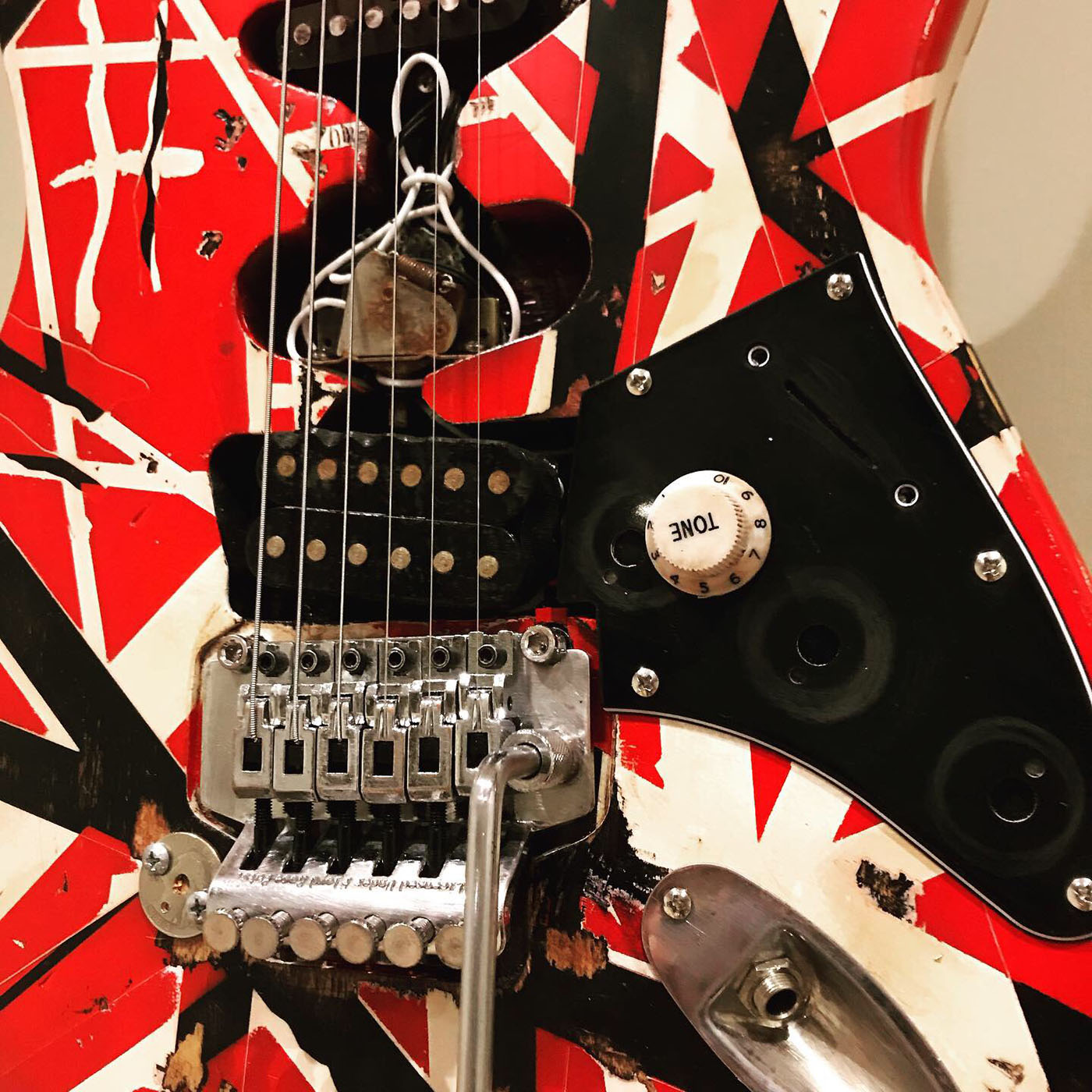 Congratulations goes out to Chris Jennings for his guitar build, to earn him Guitar of the Month for December 2019.
Chris used our STK-1M DIY kit as the basis to create his guitar.
"Growing up in the Midwest and attending High School in the 80's, I cut my musical teeth on bands like Van Halen.  I started playing simple power-chord riffs at the age of 14, and really have not progressed much in my playing ability over the past 38 years – but I still love cranking the amp to 11 and pretending to be my own version of an aqua-net infused guitar god.  I have always loved the guitar playing of Eddie Van Halen, regardless of if he was playing with Dave or Sam (that is totally another discussion for another day).  As well, I loved the many looks of his guitars over the years, yes even the 5150 Steinberger.  Due to my own history owing a vintage Charvel San Dimas that I bought at a Phoenix pawn shop for $60 in 1996, my favorite EVH guitar is his original Frankenstrat build made with an Ash Body and maple neck sourced from the seconds bin at the Charvel Factory.
Desperately wanting to own a guitar that looked like Eddie's, but not being able to afford one of the 300 individual replica Frankenstrats built by Fender in 2007, I wondered how much it might cost and how difficult would it be to make my own replica.  With a bit of guitar repairs and construction under my belt, I thought "Why not try it!"  I set a budget of no more than $300 for materials and set forth on sourcing parts for the build – but where to start… the inter-webs and YouTube, of course!
There are innumerable blogs, videos, photos, and forums with information on original EVH guitars through the ages and even specific tutorials on building a DIY Frankenstrat.  I began to research each part of Eddie's guitar with the intent to meet the exact specifications of each component that I could find on the web.  Let me tell you, I found a ton of information, and soon realized that if I tried to build an exact replica, it was going to cost more than my $300 budget.  This meant I needed to change my approach and build something that would be immediately recognizable as an EVH guitar, but not a precise replica.  I mean who really cares if you have a 1971 quarter to level your Floyd Rose, or a neck pickup from the same year as the one Eddie used???
After spending weeks (and I do mean weeks) on selecting the best valued kit for the money, I decided upon Solo Guitars, specifically the STK-1M kit with a basswood body and maple neck (it had the right shape of headstock and at $149 dollars, I had plenty of room for some extra parts).  The final build used the body, the maple neck, tuners, trim pieces and the tone knob from the kit.  Extra parts I had to source included a black pickguard for under $3, a used 3-way switch (old spring model) for around $15, a string tree for $1, and a "licensed" double locking Floyd rose system for $24 – all off of eBay.  I also had a few old pickups lying around including a black humbucker and a single pole pup as well as some switchcraft jack/inputs and pots.  It took several months for everything to show up – but when it did, I was ready to rock!
Tip #1: take some of your clearest reference photos and print/enlarge them to the actual size.  You can take a few dimensions directly from your guitar body, and then take you images to a print shop like staples and they can help you get the print to the same size.  Get a handful of those done as they will become your templates, patterns, and best true reference materials.
I started on the body and the first modification I made was to shape the pick-up cavities.  I cut and sized wood blocks to fully fill all the pickup cavities and used ¼" dowels and wood glue to bond the filler blocks to the body as tightly as I could.  After a few days of drying, I took one of my full-size reference photos, cut out the cavity pattern from the photos, and transferred the space to the body with pencil.  I used a palm size router to remove the wood following the shape and layout that Eddie did himself.
Tip #2:  Make sure you use a very strong wood glue or even structural epoxy for this part of the work and do not try to route the shapes all at once – start shallow and go deeper with each pass, if you go to deep in one pass, the wood may split and leave you with a bigger hole than you started with. 
Of course, the guitar needed a whammy bar for some epic dive bombs!  Eddie's original was built so you could only go down to release tension on the string. However, making this to suit myself, I wanted to be able to go both down and up.  To keep the action low, I routed a shallow bridge cavity from the surface of the body and made the back end of the cavity slightly lower than the front end to allow for clearance.   
My final modifications to the guitar body was a tiny bit of shaping around the horns and belly of the body. The neck only really required two modifications, adding the top locking nut and string bridge.
Tip #3:  When you install your tremolo system, install you locking nut first and make sure your distances are correct.  The bridge pivot posts will be very close to the existing bridge cut-out, make sure you have enough wood for the posts to grab onto.
I removed the Solo kit's electronics from the included white pickguard, and used it to take a first stab at making the modified guitar cover.  When I was happy with it, I used it for the pattern to cut the black pickguard and drill the new screw holes that are required to attach it in its new configuration.  Don't fill in the screw holes you are not using – it will add to the relicing. I also took my humbucker and filed down parts of the pickup to match what I saw on my reference photos.
Tip #4: Prior to painting don't forget to sand the areas you are wanting to paint, use sanding sealer, and apply a grain filler.  While you are not looking for a perfect surface to paint on, it is essential to do this to make sure the paint adheres well to the body.  Before you add your first coat of white paint, refer to your reference photos and distress the guitar here and there to get a well-used look on the surface.
The most exciting part of the build had to be painting the classic EVH red, black and white pattern on the body.  Getting the layout as precise as I could was very important for me and the internet was very helpful as there are lots of reference photos and videos showing how to tape, paint and finish the guitar.     
Tip #5:  Remove the tape while the paint is still a bit wet for cleaner lines, and let the guitar sit for a few days while the paint fully cures between coats. 
Have a few different widths of tape and consider using automotive painting tape.  Take your time in taping up the guitar, once again use your to-scale reference photos to line-up the tape.  Matching the white and black color is simple, but when it comes to the red, try a few different brands and colors to make sure the red is the right color.  Some websites suggest you use cans of Schwinn bike paint – but I just purchased my rattle-cans at Home Depot.  When done, the paint, specifically the white, was a bit too bright and looked too new.  I made a mixture of tan and yellow crafting paint and diluted with water and hand-rubbed this glaze over the guitar to age the paint.
Tip #6:  When spraying your guitar, do a few test coats on spare cardboard or wood.  You can use these to test your glaze to make sure you are happy with the color before adding to your newly painted guitar. 
Once the painting is all done, you will need to go in and sand some of the paint areas away to match the patterning on Eddies guitar and don't forget the "cigarette" burns on the headstock. Since I gave up on creating an exact replica, I also painted my headstock as I wanted to brand my guitar as "Frankie".  My last step with painting is optional, you don't have to do this, but I added two coats of matte clear-coat after it was all done just to protect the finish.
Before final assembly, I "aged" all exposed chrome parts by scuffing them-up with steel wood and for the trim elements, non-function neck pickup, and center switch, further distressed them with a combination salt & vinegar bath.  Do NOT use any chemical treatments on any mechanical parts such as your tuners, tremolo screws, etc. as the vinegar could affect their performance – just use sandpaper and steel wool on those parts.
I am sure there are lots of little things that I forgot to mention that needed to be done in order to complete this build that I have not covered.  I would suggest before you start, google "DIY frankenstat" – there are a ton or resources out there.  Even with all of my care, when I compare my final build with the photos of the original, I can see lots of "mistakes" on mine – so I would encourage you to not try to be too precise and just have fun doing it."
-Chris Jennings