Guitar Of The Month – April, 2020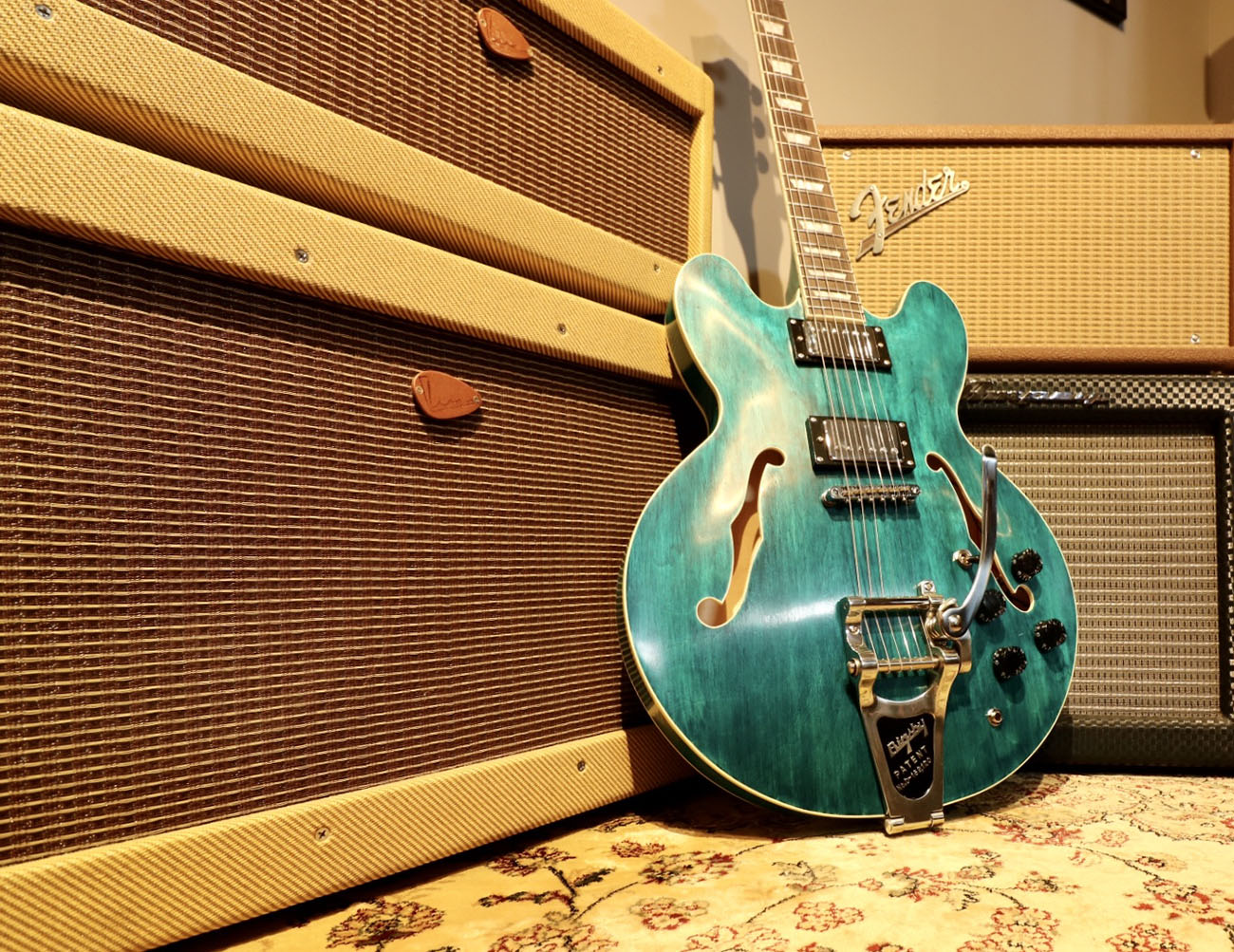 Congratulations goes out to Jean-Michel Pranno for his guitar build, to earn him Guitar of the Month for April 2020.
Jean-Michel used our ESK-35T DIY kit as the basis to create his guitar.
"Ever since I refinished a Fender Telecaster body I had the idea of getting a kit and building my own.  I always liked the ES-335 guitar and since getting a true Gibson is somewhat cost-prohibitive. I found that it would be much more satisfying to build my own rather than getting a lower grade Epiphone.  So I bought the ESK-35T and got to work.
The kit was delivered in great condition and the fit between the neck and body was good from the start.  I started off using a wood grain filler and since I wanted to accentuate the wood grain, I tinted the filler with a black dye (Craftnique).  I sanded the surface to 300 grit and then applied the Saman turquoise stain.  I applied 2 coats of the stain and then sanded up to 600 grit before starting to apply the Tru-Oil from Birchwood Casey.  I used the same product on the refinished Telecaster I previously did and knew what quality to expect from that experience.  I found it to be even nicer on a stained surface as opposed to the bare wood finished I did before.  I did seven coats of Tru-Oil and found that the best way to apply it was to use a thin layer and spread it with a coffee filter with very light sanding between coats using a 0000 steel wool.  
After letting the Tru-Oil cure for a full 7-days, I started sanding first with 1000 grit, then 1200, 1500 and up to 2500 grit.  The last step was to use a regular car polish and properly buff it out.
I then glued the neck and body together with proper clamps and since the fit was great, it was an easier step than first anticipated.
The wiring was relatively easy as I followed the recommendation to use a template to pre-wire all of the components with the exception of the pick-ups which had to be done last.
Some of the personal touches I did were to apply a custom designed Fleur-de-Lys logo on the headstock (to represent me being originally from Quebec) which I applied using a hand-cut stencil and I added a Bigsby B7 tremolo which fits very nicely with the rest of the hardware supplied.
I'm truly happy with how it turned out, how it looks and sounds and its overall feel.  I would definitely do another. "
– Jean-Michel